Dear Diary – by Desiree Oude Groothuis
From my 14th birthday untill my 25th I wrote in my diary almost daily.
I remember my very First DIARY (Dagboek) had a cover in bright blue that was kind of chinese silk cloth.  The pages had a vague flower and grass design on them, in pastelpink, and it had lines.
It has poems, and the words to my favorite songs at that time, a lot of Kate Bush and Fleetwood Mac and of course Michael Jackson.
In these years I also had a penpal in Germany, her name was Beate. We wrote for 3 or 4 years at least. We would call it SNAILMAILING now, sending letters and little presents to eachother, the feeling of receiving mail still hasn't changed … it's the best.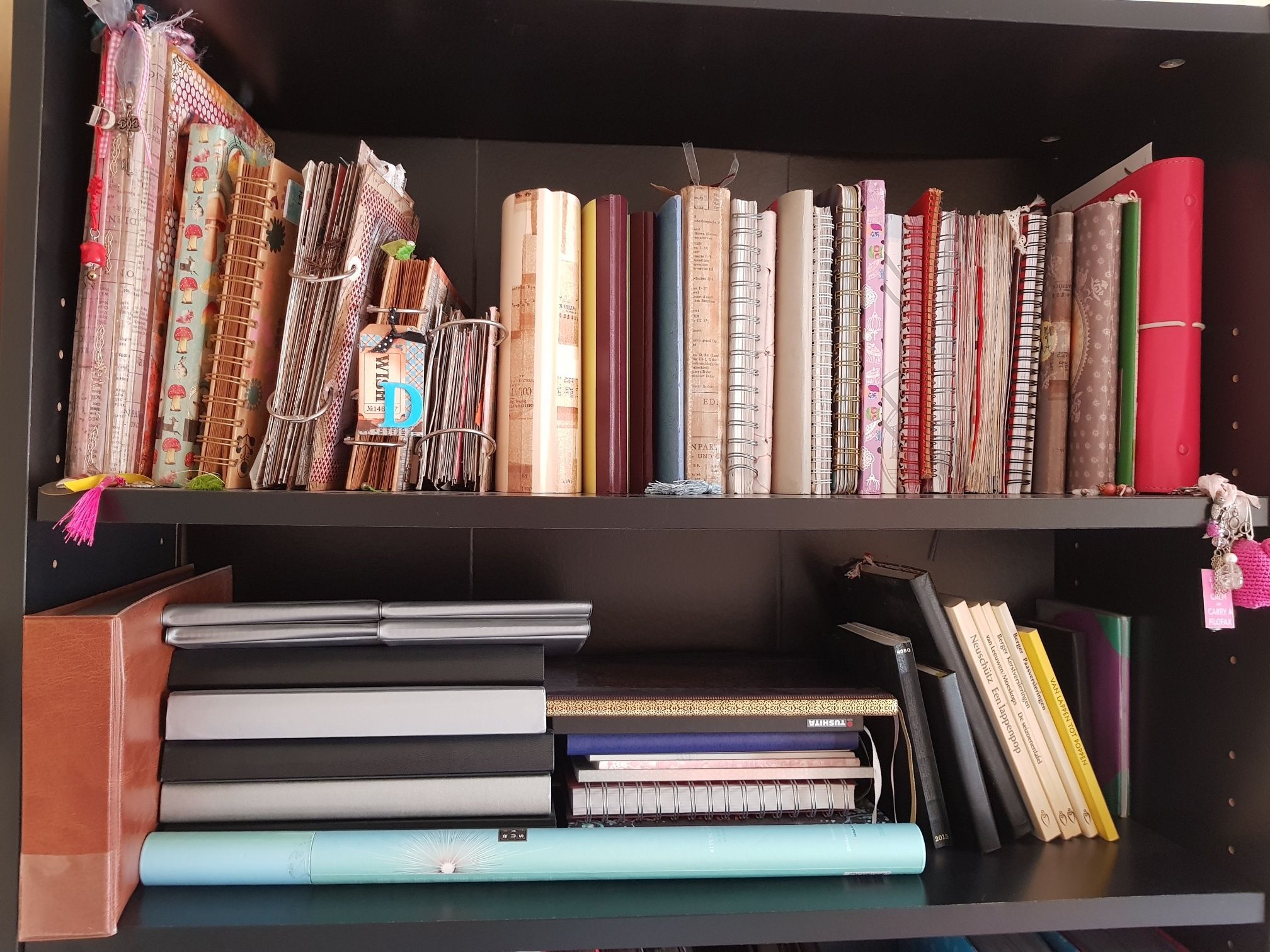 MEMORABILIA
Later I made my own, bigger – A4 size journal,  because I glued in everything that had anything memorable :
The yarn  I was crocheting  bikini's from (not knowing crochet gets lumpy when wet 😉 the cinema tickets from JAWS, and the first lovenotes.  I even glued in a little cheat sheet for History class and it is still in there.
ANNE FRANK
About school, friends, crushes, boys, and boys oh … and boys.  About being mad at my dad for being so strict, to journaling about the books and the films I so loved.
I read so many books in those years and I am so happy that I wrote most of them down.
I remember going to the Anne Frank Museum in Amsterdam on a school trip.
It was so impressive,  and  how  I wrote about it later in my own diary,  after reading Anne Frank's Diary . Anne wrote to 'Dear Kitty' a fictional friend, mine from then on was 'Dear Kim'.
When I was 15 I watched a lot of the B&W filmclassics, with Audrey Hepburn and Doris Day and all the Sissi Movies that I watched with my mother every christmas. I  added pictures of the Films and the stars in it, I loved Gone with the Wind.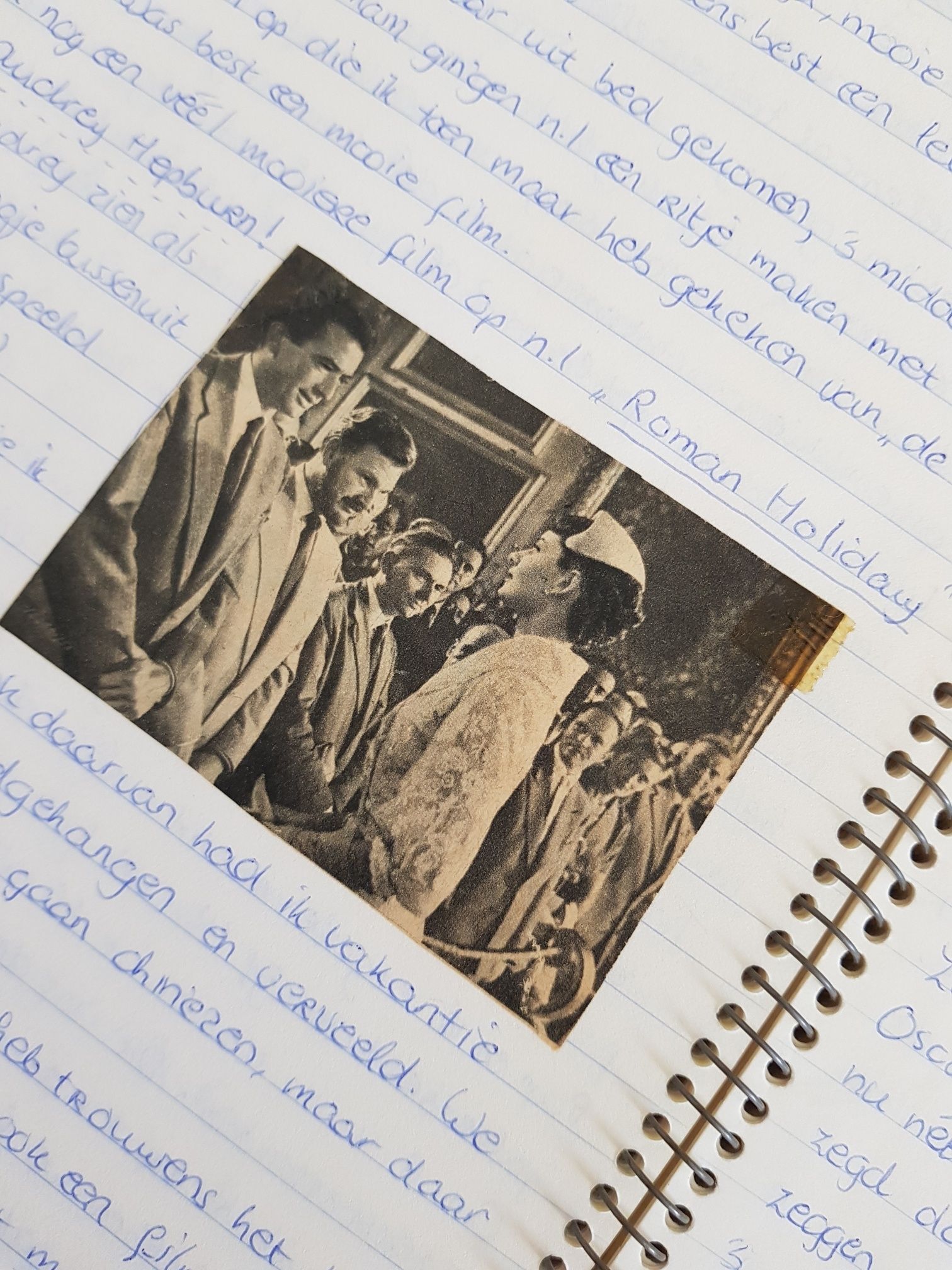 After 16 and up everything became about boys, relations and friendships.
HIGHSCHOOL DAYS
The Schoolplanner we used for school became planner  and Journal in 1. Homework was inferior to Popsingers and Musicbands and boy's names were on every page. Me and my friends read eachothers journals and wrote in it.
GROWING UP
After 24 yo my journals stopped, as I was too busy working and partying . Life simply got in the way.
When I started making marriage plans I bought a planner to make sure I didn't forget anything.
I guess that is what we call a Bulletjournal today.( It even has dried wedding flowers in it, the flowers  survived, the marriage didn't … lol )
When I got pregnant, I started a 9 month book and went on with making Baby books until my daughter was about 6,with lots of pictures of course!
ARTJOURNALING 2.0
Life and children got in the way again, but then after a while I bought a pretty notebook and started writing again, …  and doodling, drawing and zentangling ! There is so much inspiration out there and I loved trying it all!
I try to write or journal every other day now, because I am now so happily busy running this Cafe.
So did you have a Diary? Since what age , and do you still have it??
Tell us, and send pictures of them, so we can make a DIARY – Hall of Fame here ! Or leave a message underneath this post!
You can mail me at [email protected]