by Sacha van der Voorn
I hope we inspired you in our first blog about bullet journaling!
Today we want to introduce the mood mandala.
In a mood mandala you will keep track of how you felt that day.
What was your mood;
 were you happy, tired, stressed or pretty productive?
Everyday you color a ring that shows how you felt that day.
In addition to coloring the rings,
you fill it in with shapes and lines to create a true mandala.
During this time an image of your mood of that month will evolve,
and besides that it looks great,
you have been focusing on colors and shapes of lines,
and that makes you feel calm and relaxed.
What do you need?

Making a mandala seems difficult but is easier than you think!
You need a ruler and a pair of compasses and also pencils,
fineliners and of course color felt-pens.
The Technique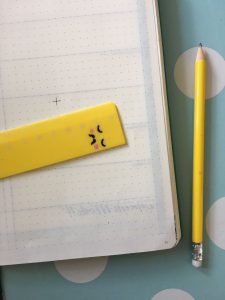 First, determine the middle of your page
Then you draw the lines/axes
that divide your mandala into even pieces.
After that you can draw the circles with your pair of compasses,
30 or 31 depending on the number of days in that month.
Often you need two pages (spread) to draw all your circles.
And when all this is done,
the design of your mood mandala looks like this.
Then it's time to think about the moods
and their colors you want to use in your legend.
@Kikiknetter chose 8 moods in this example,
but it may be more or less.
That's all up to you!
A beautiful quote and of course
the monthly input, make it complete.
Here are some videos to give you more inspiration:
Boho Berry Mini-Tip Monday: Mood Mandala
https://www.youtube.com/watch?v=fsnEI4UwkkI&feature=youtu.be
Boho Berry: How To Draw A Mandala
https://www.youtube.com/watch?v=QcHDIK0E5KY
Boho Berry: Mood Mandala Time Lapse
https://www.youtube.com/watch?v=vGDgstgg4PM
Are you also in the mood
for designing your own MOOD MANDALA
for the coming month?
You can share your pages with us here or on IG @cafeanalog17 using #cafeanalogmoodmandala