Stationery Selections: History and Craft(wo)manship Behind Kobo-Ren Stamps
Let us introduce you to this new section in the Cafe Analog blog: Stationery Selections—where Hanny, Desiree, or other friends from our Cafe Analog community, choose certain stationery items or brands they love, and share the story with all of you. We hope this can lead to our appreciation towards the artists, the products, the creativity, and the craft(wo)manship that brings these lovely stationery items from their atelier to your desk and journal pages! This episode is brought to you by our Fairy Godmother, Desiree.
INTRODUCTION 'Kobo Ren' Wooden YURANOIN STAMPS
We are so excited and very proud to introduce to you the beautiful "Yura No In" mini wooden stamps from The Lotus Atelier(工房蓮) in Japan. We have already been talking with designer Akino Fujii for many years about working together, and now we are proud to be the first to sell these stamps in Europe. We started by bringing you a set of seasonal end-of-year favorites for now, but will soon be adding more seasons, styles, popular symbols, and other Yuranoin stamps. Feel free to email us for the ones you really are looking forward to!
The Lotus Atelier(工房蓮) in Japan
"The Lotus Atelier" is a 100+-year-old family-run stamp shop, established in 1910 in Fukuoka, Japan, now on the third generation of the family. Akino-san married a 3rd generation male member of the family and in 2005 she started playing around with typical Japanese symbols and invented the as we now call:  'the Kobo Ren' stamp-family. You may have seen them before: small peg-like wooden stamps. Since 2018 Akino-san has been working alone on these stamps, and she continued her shop as 'Kobo Ren'.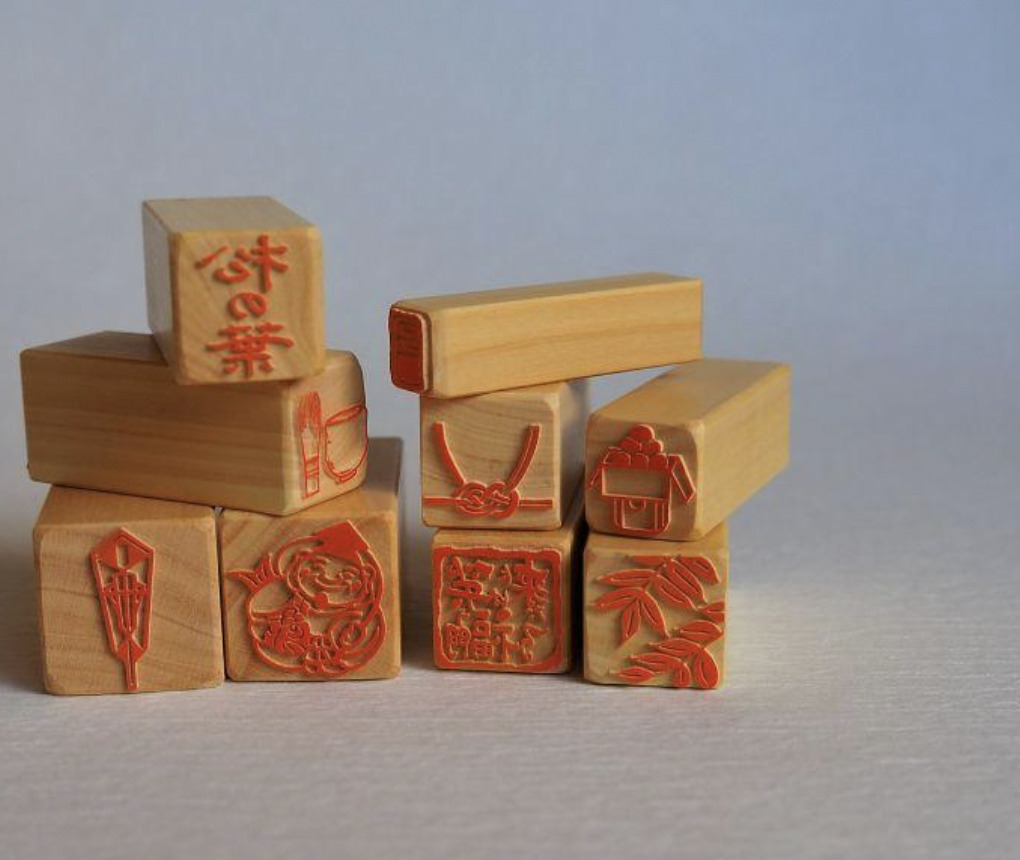 The most interesting part of "Yura No In" stamp is the rare material from which the stamps are made. "Yura No In" are made of "Hon-Tsuge(本柘" wood. In Japanese history, "Hon-Tsuge" is the most premium wood material available, reserved for the most formal stamps. "Hon-Tsuge" is composed a type of a very rare tree that only grows in Kagoshima, Japan. The growth of the tree is very slow, usually taking about 40 years to become ready and strong enough for production. 
The fiber of the "Hon-Tsuge" tree is extremely dense, which makes it ideal for long-lasting stamps.
In Japanese, "Yura No" means "The playful", and "In" means stamps.
About " Yuranoin "
However, the delicate impression created by adding the precise work of the engraving machine to the characteristics of Hontsuge, is the essential lead to making these stamps. 
Akino-san thought it would be fun if there were not only name stamps—that is common as a signature stamp in Japan—but also seasonal symbols that everyone could use: words of gratitude, pretty traditional symbols and happy new year, congratulations, etc.!
That's what led them to create this Yuin. (stamp)
When you want to record the changing of seasons in a notebook or journal, when you want to convey your feelings to a loved one, or when you want to add a comment to a handmade item, look no further than these beautiful and delicate stamps!
About Hontsuge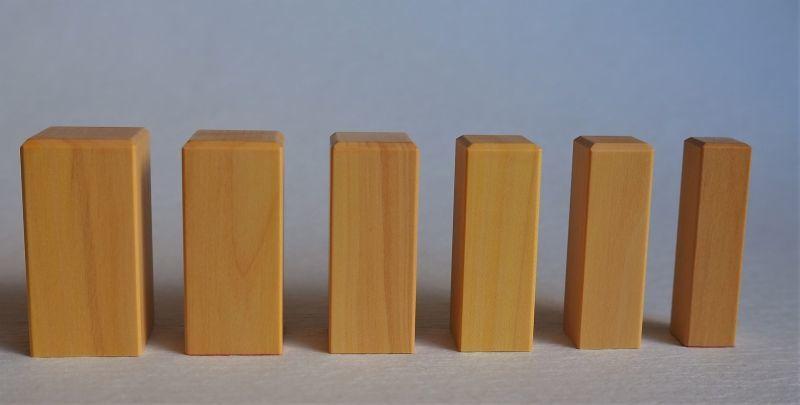 Only domestically grown Tsuge trees can be called Hon Tsuge. Hontsuge has been used as an inexpensive wooden stamp material since ancient times, but it is now a valuable material. In the first place, Tsuge is represented by the structure of wood and stone, it is a very hard wood. 
Since ancient times, it has been used for combs, abacus balls, shogi pieces, etc. Among wooden materials, it is said to be the most suitable for seals.
About sculpting 
The ability to engrave delicate designs on Hontsuge wood is a unique feature of engraving machines. Inheriting the "good work" done by the engraving machine, Akino-san uses various tools, each piece is hand-finished and completed.
How to effectively stamp
Unlike rubber stamps, it is characterized by a delicate and hard impression, but it takes some skill to stamp it neatly. It is not like a rubber stamp, you can't get a beautiful impression even if you press lightly, so we've put together some tips.
About the underlay – The most important thing.
Most people are able to print cleanly by adjusting the underlay. At first, try stacking one or two sheets of copy paper. You can't get a clean impression with a rubber stamp mat (this only works for rubber stamps). The stamp surface will sink too much, increasing the risk of corner stamping, and it will also be difficult to remove clear stamp impressions. If the surface of the desk is not uneven, you may be able to print better if there is nothing on it. If you continue to press the stamp on too hard a material, it will damage the stamp surface.
Just one piece of paper is enough in this case, so please lay it out. If you are using a white paper type (one that gets ink on the surface, the type where the letters appear white, etc.), try increasing the number of sheets of paper underneath. When stamping on thin Japanese paper, etc., the unevenness of the underlying paper itself may also have an effect. Choose an underlay with as smooth a surface as possible.
Stamp straight
Be sure to stay straight and firmly! If the stamp material is small and it is difficult to apply pressure with one hand, it will work better if you hold down the top of the stamp material with the index finger of your free hand. Don't remove the stamp from the paper too quickly, but hold it there for a while and press it firmly.
Inks you can use
Basically, you can use any ink that is made for stamping stamps. If you want to enjoy a variety of colors and choose a stamp pad based on the care and ease of use of the stamp surface, the first choice is the stamp pad. However, it is true that it is a little unsatisfactory in expressing the delicacy of the Tsuge seal's unique impression. The best and brightest image you will get is with the original stamp paste or ink mud, but it takes longer to dry.
I have tried many different types of ink, but the one that produces the most delicate and beautiful impressions and maintains its beauty is ink mud (Shanghai Seirei Co., Ltd., Beautiful) (made in China). The ink mud itself takes some effort to handle (you need to knead it), I have never seen a stamp smudge on any paper. Excellent.
How to care for your stamps
After use, please wipe off the ink (vermilion, etc.) on the side of the stamp material and the surface of the stamp with a tissue. Press the tissue vertically against the stamp surface and wipe it off by moving the ink.
If you don't clean it at all, the ink may dry up and go in the creases. When you try to remove the stuck ink, by tracing the seal with a bamboo skewer or tweezers, it may break. Please don't try this at home.
No need to wash with water or clean with stamp cleaner. If moisture seeps into the stamp material, it will damage the stamp surface. (The seal impression may change or it may break easily.)
Hontsuge is a natural wood that is suitable for printing and can be used to create delicate and beautiful designs.
We are adding some pictures and examples of how the Japanese use and play with these stamps!