Analog Projects with Hanneke: Make Your Own Journal
Hello, Analog Friends! Last month, I contacted our community friend, Hanneke, when I saw her making her own handmade journal insert. It looked like a fun project to take up this weekend, so I asked Hanneke to share with us how she did it!
In this new series of Cafe Analog's blog called ANALOG PROJECTS, I invite you to enjoy long-form reading at a slower pace (preferably with a cup of coffee, tea, or chocolate!)—while finding creative ideas and inspiration for the next creative project you can take over the weekend! 🙂 Let's get out of our heads into our hands! 😀
Enjoy!
(Since Hanny and Hanneke share the same initial, I will use CA for me and H for Hanneke!)
_________________
Cafe Analog (CA): Hi, Hanneke! Can you tell us more about you—and your personal/professional creative journey? Have you always been loving handcrafting?
Hanneke (H): First off, thanks so much for the chance to let me show so many creative people my humble crafting projects. I'm Hanneke, 34 years old, and I live in The Netherlands with my partner, our two children (5 and 3 years old), and our cat Bear.
I am a teacher at the University of applied sciences. I started working there after I finished my master's in Dutch Criminal Law, and now I teach a variety of classes (some on research, ethics, legislation, etc.). I love learning new things, whether it be creatively or intellectually.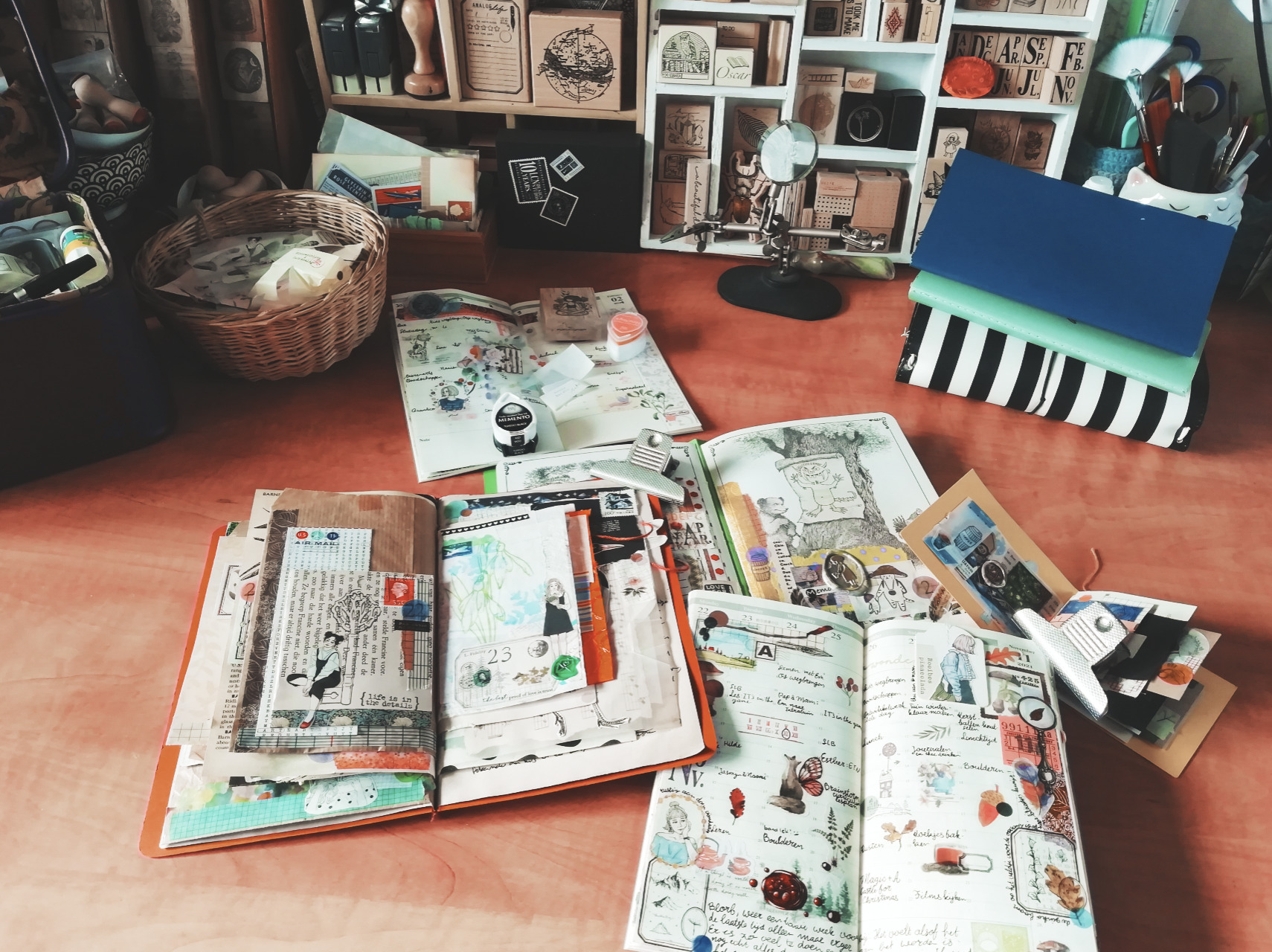 I can remember always being creative. My mom was big into crafting, so I've made ALL KINDS OF PROJECTS in my childhood. We made necklaces with paperclips and old wrapping paper, made 3D cards, macaroni drawings, etc. My grandma (from my mother's side) was also super creative. She made beautiful watercolors and oil paintings and was eager to learn new skills.
When I was in college, I was missing some creative outlet (as well as a steady cash flow :p), so I sort of got (back) into crafting by making cards (it felt like a win-win scenario since I didn't have to spend money on cards AND got to play with lovely crafting supplies). I loved stamping images, coloring them in, and layering pretty papers to make personal cards. After that, I started hand lettering, and a few years ago, I accidentally found journaling, which has stuck :D. I think journaling combines many of my creative hobbies, such as stamping, hand lettering, wax sealing, mixed media, and drawing (although I'm a bit too scared to draw in my journals for now, still working on gathering experience and courage).
CA: I saw the booklet/insert you made with scrap papers! They look beautiful! When did you start making them—and why?
H: Thanks so much! I started somewhere in 2020 by making my own journal for a creative challenge (#junkjournaljanuary). It inspired me to make my own journal after having journaled in cheap store-bought basic journals for quite a while. I'd set myself a challenge to journal every day for an entire year (starting in August 2020 and ending somewhere in September 2021). I went through journals quite fast and wondered how to make them more interesting since the same blank pages had gotten slightly boring—and I wanted a more personalized journal.
I'd also received a supercool small handmade journal from a fellow Instagrammer (@MoonHulsman) and found it so much fun to fill these pages with my favorite stamps and papers that I wanted to make one myself.
CA: Do you have specific rules when doing this? What was the thinking process like? Did you first see the paper and "group" them in your head, the pile that will look good together? Or did you rather have the idea, "Ooh, I want to make an insert/junk journal for X purpose!" and then find the right paper for that?
H: Two strategies work best for me when trying to make a junk journal. One method I used for my latest two journals (the yellow and pink ones) was going through my "junk paper" bin and grouping the papers by size range. Therefore the size determines which stack it ends up on, and I don't have to have a real idea regarding the finished look. The other strategy is working around a theme and finding papers to match this. I have collected a small array of old books to cannibalize into journal papers and will use that as a small library for making journals. I have made a fall-themed journal with old books on mushrooms and birds (the brown one), but you can also make journals around a color scheme. For example, I wanted the journal I made for this blog post to be bright, colorful, and appropriate for spring/summer, so I made it pink/green themed, inspired by these beautiful botanical pages from an old book. It's fun to combine papers from old books with newer crafting paper, or even coloring papers (from coloring books for adults). This makes the journals more personal and one-of-a-kind.
CA: Can you show us a step-by-step on making this insert?
H: I'll do my best! I have used some tutorials online, which I mention below, mainly on how actually to do the binding (there are so many options!).
Step 1: Pick a theme/size for your journal. Sort all your papers, cut them to size if necessary, and stack (and fold) them as you want them.
Step 2: Choose what type of cover (preferably a thick cardstock paper) you want and what type/color of thread. I love embroidery floss because of its strength and large color range. Next, pick a binding style (see info below). Cut the cover to size (you want it to be a bit bigger than the pages) to protect them. Depending on the thickness of the stack of papers, you need to fold a spine for your book. I made my spine for this journal about 0,5 cm because the papers are quite thick.
Step 3: Clip the paper and cover them together with large paper clips. When there is a size difference in the pages (such as with this pink journal) it might be easier to only clip the papers together so they won't shift). Poke holes in the spine (you can measure the spacing, or guesstimate). Cut the thread. The length should be about three times the length of the spine of your book or longer if you want to use the thread to close your journal.
Step 4: Thread the embroidery floss, and bind the booklet according to your chosen method. I really recommend looking up binding methods online. I usually use the 3-hole pamphlet stitch or the 5-hole pamphlet stitch for bigger journals.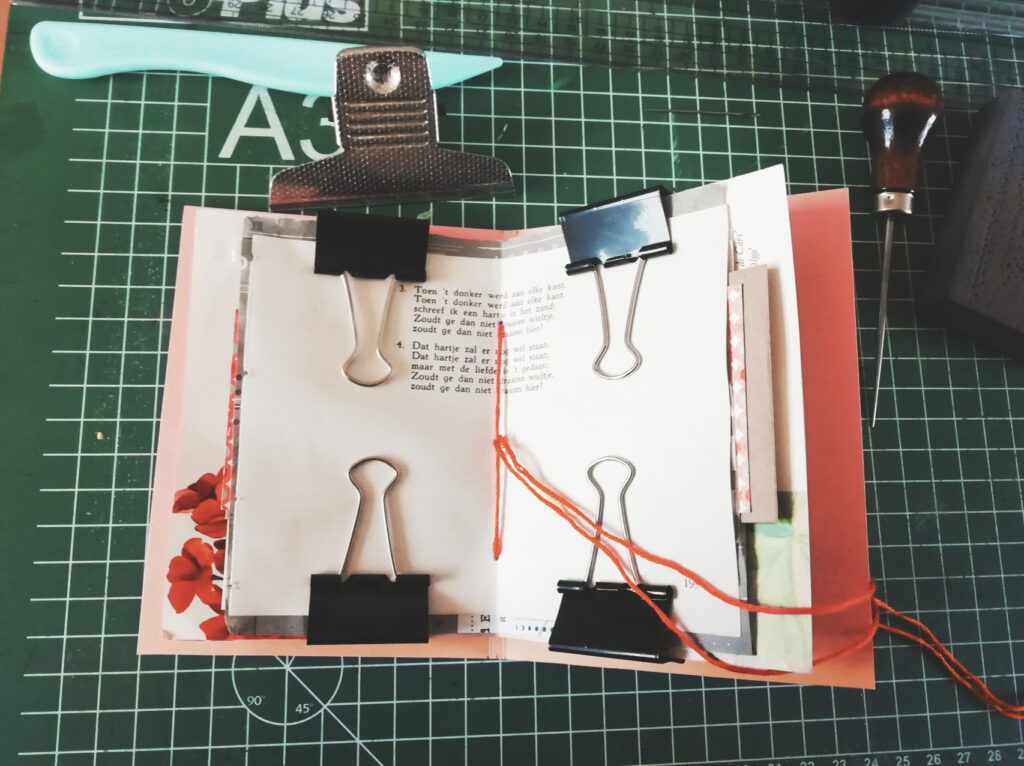 Step 5: Finish the booklet according to your style (for instance, add envelopes, fold papers to create small pockets, decorate the cover, etc.). I had a lot of stickers lying around from new washi tapes and PET tapes (the cover stickers), and they are lovely to use in these junk journals because they can create a color scheme for the pages. You can also pre-stamp some pages with large design stamps or paint them with watercolors beforehand. The options are limitless.
My go-to source for ideas on how to bind these booklets is YouTube. I found this video on the three-hole pamphlet stitch very helpful: https://www.youtube.com/watch?v=tmbjfkmHRVI – This is the stitch I used for this pink journal, as well as most of my other journals. Another pretty method is the 4-hole Japanese bookbinding method: https://www.youtube.com/watch?v=j-r6c_trSxY , which I used on the purple/burgundy journal. That method works well when you have single sheets of paper instead of sheets that are folded in the middle.
CA: What do you like the most about making these journals/inserts from scrap paper?
H: The appeal for me is three-fold. On the one hand, I get to use pretty paper as a background and create something that fits my aesthetic. On the other hand, it is a cheaper method that is more friendly for the environment because I reuse old books and other materials (old envelopes, wrapping paper, wine labels, the sky is the limit!) that would otherwise be thrown away. Another benefit is that the pages already have some designs on them (writing/typing, images, stains, etc.), and it then feels easier for me to start on a page or feel inspired to create. And lastly, it is fun to search for pretty materials to recycle, so it gives me another fun reason to visit thrift stores, garage sales, or save scrap papers.
CA: What do you use these journals for?
As mentioned above, a while back, I set myself this 1-year daily journaling challenge, which I managed to do and posted daily on my Instagram (@craftyHanneke)! I use these journals mainly for collages and quotes; sometimes, I write a bit in them. They are primarily an outlet for this creative bug that seems to possess me which really feels the need to physically create something. I am still contemplating whether or not I want to buy a small photo printer to journal more about memories or artworks I love. Another idea is to make a journal with my favorite quotes, or about my garden. Making one with favorite recipes could also be a lot of fun.
CA: Why do you journal in the first place? How do you usually journal?
H: I love making something with my hands. It often puts me in this flow state where the world around me and the worries I might have to disappear, and I feel content and happy. I love finding the perfect paper, sticker, or stamp to fit together on a page.
I usually journal in the evening when things are finally quiet. Still, I also love to do it on days off and spend the entire day rummaging around in my craft room and playing with my stationery (usually with a cup of coffee or tea and with some handmade baked goods if available :p).
CA: How do you usually spend the rest of your analog time if you are not behind your creative desk, making things with your hands? 🙂
H: I'm trying to be better at spending more time off-screen. Because of work, two small children, and the housework, my energy sometimes feels wholly drained at the end of the day (or halfway through the day, who am I kidding :p). So I regularly spend evenings watching TV. But I do try to spend more time reading (I just finished a bundle of short stories from Arthur Conan Doyle, but also love fantasy books, novels, and books on self-improvement), walking, baking, doing yoga, going bouldering or playing games. In the summer, I also enjoy gardening (even though snails and slugs usually eat ¾ of the plants I sow :o).
In general, any creative hobby is something I love spending time on. So I sometimes knit or crochet, make small drawings, paint with watercolors, and I am trying to learn how to sew (which can be very frustrating with my perfectionist personality!).
CA: What role do you think "being creative or doing creative projects" has in your life?
H: Creative projects give me a sense of accomplishment, of freedom, a chance to connect with myself and all in all they just give me a creative outlet. I tend to overanalyze a lot and find it sometimes very difficult to get out of my head. So crafting helps me get into a calmer mood and sort of turn my brain "off" for a while. Being creative feels more intuitive, and I've noticed that when I do it often, my perfectionistic, self-critical voice is less loud, and I can enjoy things more.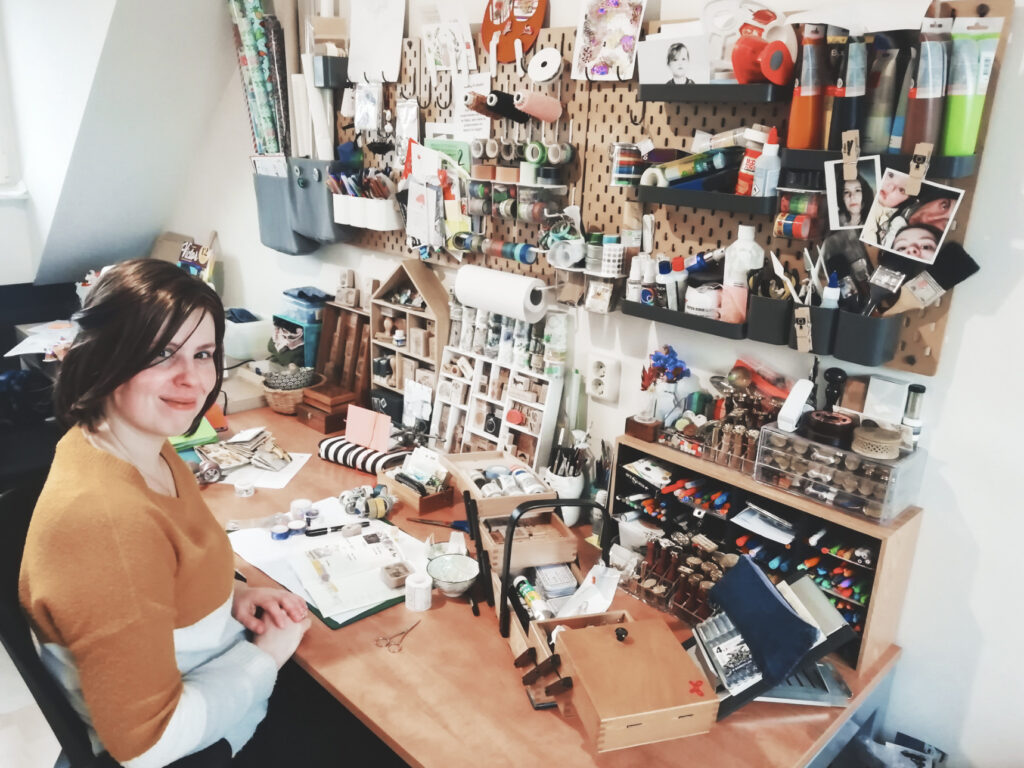 I talk a lot in my work when teaching a class or helping students, and I always try to think of how other people are doing. Journaling is a nice way of refocusing on myself, recentering and reconnecting with my own needs.
I really hope more people will try new creative things, such as making their own journals :D, and will feel the satisfaction of a bit of time creatively spent. I hope you've enjoyed my story and small tutorial, and if you try making your own journal, please let me know!
__