START BAY NOTEBOOK COVER – by Desiree Oude Groothuis –

Always looking for pretty and durable products, I stumbled upon Start Bay Notebooks.
After my temporary Hobonichi adventure of 2015/2016, I was still looking for a – preferably  leather-  A5 COVER for my Stalogy,  that I keep as my daily Journal.  
I still doubt if I will return to Hobonichi in 2018, although the Tomoe River paper will always be the absolute Top when it comes to fountainpen- and watercolor paper.
Stalogy is a good runner-up, although it doesn't make that gorgeous 'swishy' sound when you turn the pages.
Apart from that , I wanted to see if I also needed to jump on the BUJO (bulletjournaling) Train. (Yes I belong to the last 3 persons that weren't following that trend.)
I didn't like any of the covers of the Hobonichi 2017, so that was a quick no go. But , at least I know that for sure , the A5 is my stay at size.
I searched since january for The Cover  (it's june already !!). 
Many were just too expensive , but then  I am enough of a 'StationeryQueen' to want a real brand/no fake … and preferably nice smelly leather.
So I checked out the Natural 'naked' Midori (that colors so nice in the sun), the Roterfaden (nice and different) and other A brands and then I saw this Start Bay Notebook Cover on an Instagram post and found myself going back to it numerous times.
I ordered the Start Bay Navigator  A5 with a Rhodiarama Notebook and settled at the frontdoor.
I didn't have to wait more than a couple of days! Out of the box came a white cotton dustcover bag (with leather Start Bay tag) and ooooh, … the most wonderful chestnut leather cover. Exactly that warm shiny chestnut brown that I love in autumn.
On the back in letterpress simply the Start Bay logo.  Nice, thick leather, rugged on the inside. Virginlike, without a scratch … yet:) I fell in love instantly.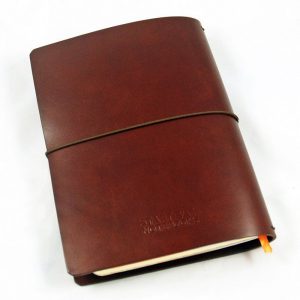 Next the Rhodiarama Notebook (160 pages) ! That buttersoft cover, wow  ….and very nice cream  dot- grid paper … waiting for lists ! Very Fountainpenfriendly!
My Stalogy (186 pages) and the Rhodia notebook sit snuggly together , it fits perfect!
Doesn't it look great? I am going to have a coffee with it first, those lists can wait!
Interested in Start Bay Notebooks? Check here